2004 Jim McCall MBE Beechgrove Garden
The gathering committee have announced that this year's chieftain will be Jim McColl. Mr. McColl from the BBC television garden programme Beechgrove Garden has confirmed that he will attend the Durness Highland Gathering in July as the Chieftain. In 2002 he was in Durness at the recording of the Community Garden for the long running programme broadcast in August of that year. Jim has many honours: MBE (1996); Scottish Horticultural Medal (1982; Pearson Memorial Medal (HTA UK 1995); Hon. Research Fellow, Scottish Crop Research Institute (1996); The Gold Veitch Memorial Medal (2000) from the RHS; Institute of Horticulture Award for service to horticulture. Born in Kilmarnock, Ayrshire, Jim McColl did his formal horticultural training at the West of Scotland Agricultural College. In 1978, Jim started to co-present the BBC Scotland television gardening programme 'The Beechgrove Garden'. Since 1973, he has also contributed on a regular basis to a range of radio programmes on BBC Scotland, notably 'The Scottish Garden' and currently 'The Beechgrove Potting Shed'. Apart from gardening he lists his hobbies as Golf and Scottish Music
The 2004 Durness Highland Gathering can be declared a resounding success. Increased attendance, increased competitors in the events and four records in the heavy events broken. Throwing Light Hammer confined, Ian Ross from Dornoch set a new ground record of 101 11 and broke his own record set in 2002 from 101 feet 4 inches. He also set a new record 84 2 throwing the heavy hammer from his own record again set in 2002 of 77 feet 5 inches.
Throwing 28lb. Heavy Hammer confined Larry Brock from USA set new record of 88 1.5 and Dave Brown from California the 56lb weight for distance at 44 4 These competitors broke the records set by Geoff Capes in 1985.
At 12 noon prompt on a dry mild but overcast day Jim McColl MBE was escorted by Iain Anderson, the temporary President for 2004 and chieftain in 1992, into the village square piped by James Mather. Don Morrison was unable to attend this year and a message of speedy recovery was conveyed. A large crowd had gathered to see the TV celebrity from the popular BBC Gardening programme Beechgrove Garden meet with former chieftains and the Ullapool Junior Pipe Band where he was presented with the cromag of the chieftain. Following the pipes and drums the officials and chieftains led the parade to the games field, Shore Park. Iris Mackay, chairperson of the Durness Association, welcomed the crowd and introduced Chieftain Jim McCall. In his opening Address Jim acknowledged that Gatherings was an opportunity for friends and family to return to their home land and meet and catch up. Where people were unable to return for one reason or another Highland Games occur throughout the world and it is likely that wherever two Scotsmen met up in foreign parts they will organise a Highland Gathering to remind them of their homeland. To be chieftain in the Highlands of Scotland at such an event was a delight and an honour.
The field has since 1970 been home to the annual event with temporary huts having to be erected each year and all the games equipment stored off the site. A new permanent structure has now been erected on the field that houses all the necessary accommodation on games day and doubles a as an equipment store. This new facility makes the administration and recording of winners with payment of prizes a much more comfortable task.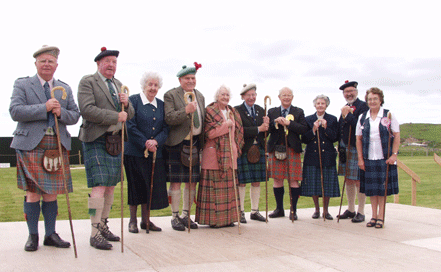 The games were a truly international event with pipers and dancers and competitors from all over the globe entered in the competitions. On the previous evening to the games Chairperson Iris Mackay was invited to talk to a Dutch contingent about the games that were participating in their first Scottish Gathering. Iris was presented with a little brooch of small wooded clogs that she proudly wore with her Mackay tartan outfit on Games Day. Catherine Maclellan from the Ullapool Junior Pipe band and a pupil at Ullapool High School provided the piping music for the dancers.
Several of the racing events, had to be held in heats, as there was large numbers of entrants, this is a first for many years. With the return of many stallholders and activities for the children the day held a fun carnival atmosphere. At preciously 2pm the ground came to a standstill. An RAF tornado appeared as if from nowhere with a loud roar.
All eyes turned to the skies and for five minutes this massive machine was performing intricate acrobatics with precision accuracy. Soaring into the skies, turning summersaults twirling like a spinning top, flying upside down and appearing and disappearing into the fairly low cloud. At the end of the performance the plane shot vertically into the air and vanished leaving an astonished and silent games field. People applauded in appreciation, the bagpipes once again started and the Highland events continued. The static seeking helicopter was unable to attend. There had been an incident where search and rescue had to attend. At around five thirty with the events running about an hour late, due to the high entries, with the novelty events coming to a close, the tug o war bravely fought between two rivalry factions of the armed forces; the bomb disposal unit and the Territorial Army, but both beaten by the Durness troops of local men; the raffle was drawn and the trophies presented. The main highlights of the annual village calendar was drawn to a close and while the good memories and visitor experiences remain the band of volunteer helpers that make the event possible start on the clearing up and arrangements for 2005